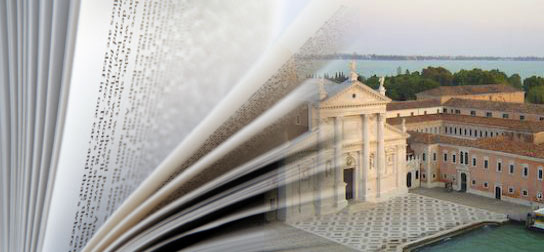 Vittore Branca Center
What is it?
Named after Vittore Branca, a world-renowned Italianist and Secretary General of Giorgio Cini Foundation, the Vittore Branca International Center for the Study of Italian Culture is a new international resource for humanities studies.
The Vittore Branca Center aims to provide a place of study and meeting for young researchers and expert scholars interested in furthering their knowledge in a field of Italian civilisation (especially the culture of the Veneto) – the visual arts, history, literature, music, drama.
The residential facilities on the Island provide scholars and researchers with the opportunity to work and stay at length in Venice at economically reasonable conditions in a setting conducive to reflection and intellectual exchanges.
Who can apply for admission?
JUNIOR researchers (postgraduate students studying for a masters degree, doctorate or specialisation and PhD graduates) and SENIOR scholars (expert scholars – university lecturers, senior researchers, directors of research centres, writers or artists) who wish to pursue research projects in a field of Italian civilisation and its relations with other civilisations in the field of arts, history, literature, music, or drama.
For a six-month period from June 2010 to May 2011, twelve scholarships are available for young students wishing to attend the Vittore Branca Center.
How to apply
Access to the Vittore Branca Center and all its facilities requires prior admission.
Applications for admissions shall be sent by October 15, 2010, complete with the required documentation, by registered post or courier, to:
Fondazione Giorgio Cini onlus
Segreteria del Centro Internazionale di Studi della Civiltà Italiana "V. Branca"
Isola di San Giorgio Maggiore
30124 Venice
Italy
Each application will be examined by a Panel appointed by the Giorgio Cini Foundation and selected, with no right to appeal, also on the basis of the quality of the proposed project and its relevance to the Foundation's cultural programs. The results of the selection will be communicated as soon as possible to each candidate.
Contact us
Vittore Branca International Center for the Study of Italian Culture
tel. +39 041 2710253
email centrobranca@cini.it
include('js/richinfo_en.php'); ?>